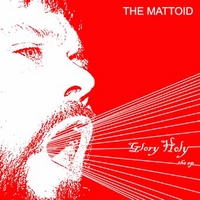 I recently met a French exchange student at a bar in North Beach. I told her of my interests in French soccer, French food, and
Serge Gainsbourg
(pretty much the extent of my French knowledge). She told me that she wasn't much into le foot, preferred Italian food, and absolutely
loved
Serge Gainsbourg. It was our discussion of Gainsbourg that inspired this heavily accented French art student to tell me about
The Mattoid
, or as she pronounced it: Ma•TOOD (neglecting the "The"). This omission, her mispronunciation and the additional complication of The Mattoid being Finnish and not French, temporarily hampered my ability to track them down, but I did, and was surprised by what I found… mainly because "Ma•TOOD" sounds very little like Gainsbourg. Nevertheless, I wasn't entirely disappointed.
You know immediately that The Mattoid, made up of Ville Kiviniemi and others, has little interest in camouflaging his absurdly humorous lyrics and style behind conventional sounding music. Instead he manufactures a sound that falls somewhere between lounge, folk, alt. country, & classic rock, all accompanied by Gainsbourg meets Wesley Willis-esque singing. Sounds awesome, right? Well, some of it is. The opening track of the EP, "Hey Dude," is an amusing modification of Jimi Hendrix's infamous "Hey Joe"—where Joe is a Dude, my old lady is an Eskimo Lady, and the gun is actually a whaling harpoon. I would tell you to check out The Mattoid's 2008 album
Glory Holy
, but all the best songs are on the 2007 EP. So, if you are interested in very unconventional, playfully-humorous Finnish indie rock, check out these tracks off
Glory Holy The EP
: "Burn and Rob," "Hey Dude," "Suicide," and "Breaking Wind."