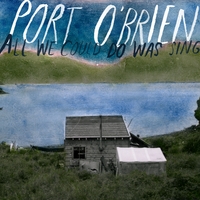 For the past year or so I have had people of all different musical tastes recommend this Oakland based band's live show. So, when their current tour slated them to rock Santa Cruz, Santa Barbara, and San Francisco in support of their recently released album, I figured now was as good a time as any to dip my ears into the musical waters of Port O'Brien (I think that line just put me as the front-runner for "Cheesiest Line of the Year" award).
Anyway, the opening beats of "I Woke Up Today" made me want to do a drunken sailor jig in deck shoes aboard a storm ravaged fishing vessel... And when the gang-bang vocals kicked in (where the whole band sings simultaneously) I was sold. In my opinion, comparisons to many and mighty indie darlings are thrown about too easily for
All We Could Do Was Sing
. Sure there are moments when Port O'Brien sounds like other bands, but their music—layered, girl/guy vocals, occasional string arrangements, strummy guitar, nautical themes, and intimate, mellow, folky acoustic pieces—is far too diverse for a closely paralleled comparison. I have listened to this album HARD the last few weeks, and it continues to impress—both the up-tempo and mellow tracks, equally.
Check out: "I Woke Up Today," "Close The Lid," "Stuck On A Boat" and this video that looks like something awmercy & ancientindianwizard would collaborate on...